Above: From the 2019 summit, Michelle Martinez, Statewide Coordinator, Michigan Environmental Justice Coalition
See you in Ann Arbor!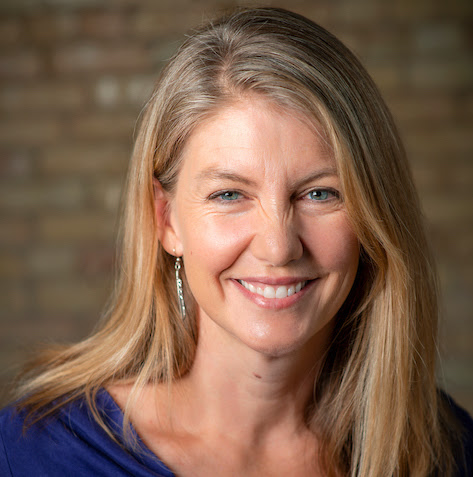 A year ago, as Governor Whitmer and her administration were just settling into their new offices, the Michigan Climate Action Network held its first Climate Action Summit. The timing of the Grand Rapids event was no coincidence, as MiCAN leaders set out to make a high-profile and early statement to the new administration that climate change was an urgent issue for millions of Michiganders. Proving the point, the conference attracted an outstanding slate of speakers and sold out in about a month as word of the event quickly spread.
MiCAN is now about to host its second Michigan Climate Action Summit, on March 12, 2020, in Ann Arbor. We checked in with Kate Madigan (at right), director of MiCAN, to reflect a bit on last year's event and learn about the focus for this year.
The 2019 Summit sold out very quickly, so get your tickets now!
When you think back to the 2019 summit, what are some of the most important moments or achievements that float to the top?
Well, we really wanted an event that would elevate the issue of climate crisis in our state and get decisionmakers to take the climate crisis more seriously … start moving toward ambitious solutions for a just and rapid transition to clean energy. I think we achieved a lot of that. One example, the then-new director of the department of Environment, Great Lakes and Energy, Liesl Clark, told the crowd she had been saying no to all speaking requests until she had time to get more settled into her huge new job, but the governor specifically asked her to speak at the climate summit. In her talk Director Clark said that addressing climate change "will be a top priority for the governor," and that got picked up by the Associated Press and ran in many news stories across the nation.
At the 2019 Summit, EGLE Director Clark said that addressing climate change
"will be a top priority for the governor."
You've chosen Ann Arbor for 2020?
Yes, even before we held the 2019 Grand Rapids event, Missy Stults, the manager of sustainability and innovation from the City of Ann Arbor, contacted me to ask that, if we were going to do a summit in 2020 to please do it in Ann Arbor. Ann Arbor just passed the most ambitious clmate goal of any city in Michigan, and we want to lift that up. Also, this